(Author's Note: Originally written in October of 2011. Some older references will be kept in here.)
What can be said about a man whose career has been summed up in so many ways?
Steve Williams, who was pretty much forced to change his name to Austin as to not conflict with "Dr. Death", went up the ranks the "hard way" (that means territories kids), and earned respect en route to being the highest grossest superstar WWE has ever had.
Amongst his many DVDs, coming out November 29th will be the grand-daddy of them all. Entitled "Stone Cold Steve Austin: The Bottom Line of the Most Popular Superstar of All Time", it's a stacked deck featuring hours upon hours of rattlesnake-brewed goodness, topped off with a brand-new documentary that accounts for the man's life. The DVD version is 4-discs, while a Blu-ray version has 3 with more hours of content not available on the DVD. Essentially, this a must-own for the holiday season and I can't stress enough that WWE usually makes documentaries worthy of several re-watches.
That being said, I must note there were certain times in the WWE that shaped Austin into the man we all know as a legend and icon. It wasn't all beer and/or Stunners you know. So here I am about to count them down, but in chronological order. Ladies and gentlemen, that's the bottom line, because... (well you know)...
1. "AUSTIN 3:16 SAYS I JUST WHOOPED YOUR ASS!", King of the Ring 1996
It's elementary to put this on here. To newer fans, they may not get the full context of this ground-breaking moment.
Starting things off, it wasn't even supposed to be Austin winning the whole shebang. As a matter of fact, the original winner penciled in was supposed to be Hunter Hearst Helmsley, but was scratched post-Curtain Call. HHH would win it the year later.
In a roundabout way, Austin's career was about to be salvaged in a huge way.
Austin's career was in purgatory for a while. Injuries later in his WCW career forced Bischoff to fire him. During his "rest period", as in the time between WCW and WWE, he went to a little promotion.
You might have heard of it. The promotion was ECW.
Between outrageous promos and good matches, Austin caught fire as perhaps of the most underrated/un-tapped talents in the wrestling world.
Ironically, this never caught on with WWE management originally.
After being hired, Steve was saddled with Ted DiBiase and coined the new Million Dollar Champion. As The Ringmaster, Austin had milquetoast matches supposedly showing off his technical skill.
After the Beware of Dog PPV, DiBiase left WWE to go to WCW leaving Austin on his own.
Through an inspirational tea session, Austin got his 'Stone Cold' moniker by complete accident as he was warned by his ex-wife to drink the tea before it got 'Stone Cold'.
However, as the saying goes, "…and the rest is history!"
Stone Cold valiantly battled in the semi-finals and finals of the King of the Ring tournament. After the semi-final matchup with Marc Mero, Austin was forced to go to the hospital to receive stitches after a kick by the Wildman. With a somewhat disfigured mouth, Austin would then defeat Jake Roberts in the finals, and thus win the crown.
The promo that would proceed this was one the WWE would never let it's fans forget. "Talk about your psalms, talk about John 3:16... Austin 3:16 says I just whooped your ass!"
As a heel, this BY FAR got the biggest pop of the night. It signaled a wind of change in the WWE, as the Federation soon made a hot-selling t-shirt, and 3:16 would soon become legendary in the WWE. Amongst many other things.
2. "DON'T COUNT ME DOWN!" RAW, 10/28/96
Bret Hart finally appeared on RAW after a six month sabbatical away from television (but not necessarily wrestling as he was booked on overseas tours). The first one to "greet" him so to speak was one Steve Austin.
After some time of taunting and "old man" jokes, it's made official: Austin, Hart, Survivor Series.
Make no joke, their match at MSG is an underrated classic, as a later match at Wrestlemania would be more memorable and pretty much launch Austin into the stratosphere.
On the buildup however, Austin was launching into his darker side. Crushing Brian Pillman's ankle on Superstars is one thing, but what he did here was disturbing and hilarious all at the same time.
Hart was at his home via satellite while Austin was in front of a camera either at the arena or WWE Studios, who knows. It sounded like a straight-forward interview until Austin starts flipping the shit.
Of course in production, it's protocol to segue from one segment to another by giving the subjects at hand a proper countdown silently.
That's the problem with Austin however: HE DICTATES THE COUNTDOWN!
He became so enraged that he threw a production assistant into a ladder, and smashed equipment on set! This Austin would be closer to 1998 Austin in destruction, but this is definitely a darker edge in the Rattlesnake character.
3. Austin Wins the Rumble (for the first time), Royal Rumble 1997
At this point in the history of the Rumble, only two men started inside the top ten and won the event.
One would be Ric Flair in 1992 from #3. Shawn Michaels started on the pole (I mean #1) in 1995 and won the 1996 Rumble as well.
So for a man like Austin whose credibility was being established, winning this event would be a massive deal.
However, he's still very much a heel at this point and therefore there MUST be shenanigans afoot!
Oh yes, there will be shenanigans!
Starting fifth, Austin would be the man large and in charge for the duration of the event. Throwing man after man over the top, it seemed elementary Austin would win.
That was until Bret Hart showed up.
The two brawled, and before you know it, #30 would be out.
Now before you say well Austin won the Rumble, let me tell you he didn't!
What happened was that Terry Funk and Mankind (Mick Foley) were fighting at the ringside area and it brought upon the attention of all the referees. In the confusion, Bret dumped Austin over, but since the refs never saw it, Austin went back in, and dumped Hart along with Vader and Undertaker to win the 1997 Rumble.
This would set the stage for the next moment, one that would literally make the Texas Rattlesnake.
4. A Picture Tells a Thousand Words, Wrestlemania 13 (1997)
To think, Bret should have faced Shawn in an Iron Man REMATCH from the year before for the WWE Championship!
That being said, I must say this match is one of the most influential matches of all time. Not just because it was one of the first 'Manias I ever saw on tape, but because of the 30 minutes that literally could have been the show itself.
Since October, Bret and Austin have been at each other's necks. The Monday before Wrestlemania didn't make things better, as Austin interfered in the cage match, but Undertaker slammed the door in Hart's face, thus letting Sid to retain the title and let the two big men go at it for the title on the grand stage.
Bret, in a fit of unparalleled rage, threw babyface announcer Vince McMahon down to the canvas and unleashed an uncensored foul tirade the likes one live television audience never saw before.
With both Austin and Hart on the teeter-totter of turning, Wrestlemania 13 undoubtedly was going to be remembered for the Submission Match, which was going to be referred by Ken Shamrock of UFC fame.
For the first 15 minutes or so, it was wild brawling in and out of the ring, but mostly out. On the outside, Bret threw Austin into the guardrail, and busted him wide open. As in, Bret had the blade and busted open Austin for the first time in Austin's career. If anyone wants to challenge me on this, go read Bret's autobiography, right here!
Blood was definitely not common in the WWE at the time, and I believe Hart had permission from Vince to get a little color. However, "little" became a "gusher", as literally the arena would have somewhat of a new paint job courtesy of Austin's crimson.
The ending saw Austin in the Sharpshooter from Hart, with blood STREAMING down. Close-up shots were particularly nasty as Austin would scream in agony with blood running down into his teeth!
After unsuccessfully trying to counter, Austin "passed out" from the blood loss and pain. Shamrock stopped the match and Hart was named the winner. Hart was pissed he couldn't get the actual submission, and thus kicked at Austin again. Shamrock threw Hart away, and therefore Bret turned heel officially. Austin however wanted no help, kicked a referee down, and turned face. Definitely a milestone moment in WWE, as they did a double-turn not only successfully, but would ensure the world a new superstar in Austin.
5. Austin Destroys Bret's Knee to "Obligacry", RAW 4/21/97
Bret Hart is rolling with momentum. After a decidedly fresh heel turn in the wake of Wrestlemania 13, he was able to patch up the feuding brother/brother-in-law tag of Owen Hart and Davey Boy Smith to form the Hart Foundation once again.
This will influence the main event of "Revenge of the Taker". Bret and Austin faced off once again, but Austin would gain the duke after Hart's cronies ran in. Austin would get the last laugh after slapping on Bret's sharpshooter on Bret, and thus we have ourselves an evolution of a feud!
To start off this edition of RAW, it was announced that Austin, newly-turned face, would face Undertaker (ultra-mega-over-face) for the WWE Championship at the event "A Cold Day in Hell". While Austin didn't sidestep it, he also didn't waste time to call Bret's ass to the ring. As a matter of fact, he only gave Bret SIXTY SECONDS to come on down before the Rattlesnake would start to look for him.
Predictably the clock runs out, so Austin raises all sorts of hell trying to find him!
When Austin hits the ring again, Bret actually meets up with him. Hart was smart, and wasn't truly alone. Davey Boy and Owen jumped him, but Austin wasn't shaken. As a matter of fact, Austin had an unlikely ally...
Michaels was battling a supposed knee injury that forced him out of WrestleMania. Though Shawn wouldn't wrestle in this time frame, he would make sporadic appearances on RAW. Austin would take notes on this later.
After Shawn's chair-wielding antics, Austin had Bret all alone. Austin used a chair to "soften" the knee of Hart, and then slapped on the Sharpshooter for a LONG time. Long enough where Bret had to be loaded into an ambulance post-beatdown!
Of course Bret's ride wouldn't be totally peaceful as Austin would jump Bret AGAIN!
Turns out in real life, Bret injured his knee in an overseas tour, and surgery was required. While Bret would have his surgery, he wouldn't be off the television screens for long. In a wheelchair and/or crutches, Bret would still raise hell to Austin's hell and would lead to an epic summer.
In addition, Brian Pillman would also get revenge on Austin. After a five month layoff, Brian returned at the conclusion of this episode of RAW to hand Austin his own ass on a platter. Pillman would shortly then join the Hart Foundation. Again, this would lead to an EPIC summer!
6. Austin "Stampedes" Into Calgary, Canadian Stampede 1997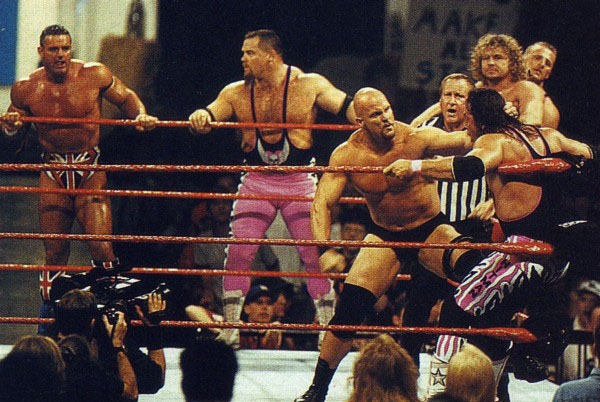 Remember the epic summer hinted in the prior entry? Well, this match was a culmination of sorts.
Manning the Foundation, we have Bret Hart, Owen Hart, Jim "the Anvil" Neidhart, "British Bulldog" Davey Boy Smith, and Brian Pillman.
Austin's team consisted of the Redneck, Goldust, Ken Shamrock, and the Road Warriors Hawk & Animal.
With how the roles flip depending on what border you're on, the crowd reactions stayed consistently insane.
Canada definitely led the way in terms of audience enjoyment. When the Hart Foundation came out, it was as if God himself came out.
On the other side of the coin when Austin came out, they disemboweled him like Satan. AUSTIN LOVED IT! Kind of akin to when Jim Ross says Mick Foley loves pain.
It was a tremendous brawl in the Saddledome. Ten men, no slowdown, and no let up from the paying audience.
At one point, Owen was "taken out" by Austin, and had to go to the back. Only for Owen to rollup Austin and win the match for his team and a boisterous Canada!
As the Harts celebrated, Austin stirred the shit with the patriarch Stu, matriarch Helen, and assorted siblings in the front row. With the action escalating to the ring, Canada's finest (and no, not MOUNTIES) put Austin in handcuffs to haul his ass away.
But not before flipping the audience the bird up the ramp... IN HANDCUFFS!
8. BOTCH! Summerslam 1997
The title for this entry comes from this, one of the absolute funniest videos I've ever seen from a video game. Go check it out now!
With how the 'Stampede' ended, it was announced for Owen and Austin to compete for Owen's Intercontinental Championship at Summerslam.
With that in mind, here we are for Summerslam 1997, the first PPV event held In New Jersey in quite some time. (Erm, erm, taxes and ballyhoo…)
Austin and Owen were in the penultimate match with only Bret and Undertaker left to go.
The action was fairly standard for it's time. While Owen would be technically on the upswing, Austin would brawl out of it. Typical formula but a fine match nonetheless.
Then disaster struck.
Austin came off the ropes, and would then be picked up by Hart to be piledriven ala Undertaker.
Only Owen landed on his ass instead of his knees.
While the immediate severity wasn't disclosed, it was obvious Austin wasn't selling in the middle of the ring. He was legit hurt, and very badly.
To kill some time, Owen played to the crowd and told them he was gonna finish him off. Austin though got on his knees long enough to make an awful-looking rollup to win the belt.
In the weeks following his injury, no one knew how severe Austin was hurt because he was always on TV contributing to the best of his ability. This next entry will prove that to its fullest, and bring the flagship RAW program one of its most controversial moments ever!
9. "OH GOD, AUSTIN'S STUNNED MCMAHON!" RAW 9/22/97
Even without this event taking place, this particular edition of RAW was going to be historic.
For the very first time, RAW emanated from Madison Square Garden, the mecca of WWE. As the arena was literally the home-base for so many years when WWE was a territory, it was surprising it took nearly five years for RAW to hit MSG.
When it did however, the show that happened was as Neil Patrick Harris would say, "Legend....wait for it.... DARY!"
Not only was the IC title tourney heating up (due to Austin's injury/forfeit), there was also HBK's issue with Undertaker and Bret Hart, in addition to Cactus Jack debuting in WWE (as opposed to Foley being Mankind previously) as he would defeat Triple H in a Falls Count Anywhere match.
About halfway through the show, Austin was about to raise hell. Only problem was that Austin had a restraining order from Owen Hart, and you what that means!
Owen won a 'grueling' match. He would try to dedicate thw match to his loving brother Bret…
BUT HERE COMES AUSTIN!
Gorilla Monsoon would call this a Pearl Harbor job. Austin continued the attack until New York's finest came in armed and ready. Vince McMahon got up from the table and needed to talk to Austin.
McMahon told Austin he understood that Austin was upset not being able to compete. While being on the program was fine, breaking the law was not.
As Austin told McMahon that he is appreciable that the Federation cares about his physical status, he tells him he can kiss his ass.
STUNNER!
At the time, Austin had Stunner'ed EVERYONE, including Jim Ross and Jerry Lawler, so McMahon was inevitable. No less exciting to see it happen.
As McMahon lay quivering on the canvas, Austin willfully had the cuffs put on him with a somewhat-sinister laugh.
Jim Ross on a later DVD they tried making Austin a premier bad guy in the WWE, but the fans wouldn't buy it. This was DEFINITELY formidable proof.
10. "TYSON AND AUSTIN!" RAW 1/19/98
The night after the Royal Rumble usually sets the tone for Wrestlemania. This particular year was no different.
With Steve Austin winning the Rumble for a second straight year and a pretty much crippled Shawn Michaels retaining the WWE title in a Casket Match against Undertaker, the clash for 'Mania would be a blown-knee versus blown-back affair.
However, Vince wanted to spice up the proceedings even further.
Mike Tyson and his posse surrounded the ring, fresh off of appearing at the Rumble in a box suite, with Vince on the stick. As Vince announced who the special guest enforcer would be come Wrestlemania...
...GLASS SHATTERS
"This is Stone Cold's ring," a clearly-nasal sounding Jim Ross exclaimed. Austin walked and talked with a purpose down the aisle as he would run in and badmouth Tyson. After some sign language and more badmouthing, the two got into it.
And Jim Ross went neck-fat bat-shit crazy.
"TYSON'S GOT AUSTIN, AUSTIN'S GOT TYSON!"
With Vince yelling, "YOU RUINED IT," Austin made his point known. For the lead-up to Wrestlemania, Tyson sided with DX. At the end of the main event where Austin won the title, Tyson revealed a 3:16 shirt to side with Rattlesnake. Two of the world's toughest sons of bitches joining forces was never explained further, but if it was, WWE wouldn't be a company anymore due to Tyson's outlandish appearance fees. Hey, a man's gotta pay forta fi for his hoes!
IN CONCLUSION: On the way to the stars, aka winning the title in 1998, Austin has some pretty awesome moments. While most of these are talked about, there were a couple I think might have been forgotten, like the Stampede and Hart's knee ones.
Austin's a man whose career reads like a good story, without most of the bitter side-effects most wrestlers endure. He's won titles, respect, and more importantly, is the face of an era that could never be duplicated. For that, I salute him with a thumbs up on 3:16! 'Cause I said so!
P.S: Do yourself a favor and download some of Austin's podcasts! They're funny, uncensored, and absolutely what you expect out of a rattlesnake!
(Post Updated: 4/27/2014)