(To read part one, please click here.)
It will be here before you know it! WWE's got their big annual summertime tradition coming up in the form of SummerSlam.
Since its inception, SummerSlam has generally been regarded as the second biggest PPV of WWE's fiscal year. Storylines begin, climax, and end all during this time. In the background, strange one-off occurrences can also make their presences known. Some of these accentuating angles may not seem big at first, but time can definitely measure the staying power.
By this definition, a 'sizzler' could very well be a synonym for 'attribute'. In this countdown, you will see major revelations, reveals, flashes, screwjobs, etcetera, that have made SummerSlam the hottest ticket for PPV subscribers since the inaugural event in 1988.
Without further ado, time to put the meat of the article on the grill and let it… sizzle.
_________________________________________________
Last we met you, here are the 15-11 choices:
15. WWE Got It's Seventh Man Fit to be Tied- SummerSlam 2010 (aka: Daniel Bryan's shocking return to the WWE after being fired.)
14. The Winds of Change- SummerSlam 2002 (aka: Brock Lesnar winning the Undisputed WWE Championship.)
13. Undertaker URNED That Turn!- SummerSlam 1996 (aka: Paul Bearer turns his back on his Undertaker to partake in Mankind.)
12. Goldberg Loses The Game- SummerSlam 2003 (aka: WWE swerves the masses by making a legitimately Jewish man lose to a man with an Iron Cross symbol in an Elimination Chamber. Sick irony I know.)
11. Liz Flashes Her Mega Bucks- SummerSlam 1988 (aka: At least the panties match the Mega Powers drapes!)
Now we continue with the countdown…
_________________________________________________
10. BOTCH-A-GREE! SummerSlam 2000
This is one of those rare times where a simple moment like what you are about to decipher can easily be depicted as foreshadowing. A rare misfire in the Attitude Era, but one that would leave small rippling ratings dips in its wake.
Before we get to that though, let's analyze how the Olympic Hero and The Game got to this point.
First off, the match in question is a Triple Threat Match for the WWE Championship. Triple H and Kurt Angle challenge The Rock for the gold.
Angle/Hunter collectively got the chance after pinning Chris Jericho in a triple threat. Both men got the chance, and both men despised the sentiment.
At one point, Hunter tries to teach Trish Stratus an abdominal stretch. You know, because men try to tap that fine ass as much as possible! In reality though, they were tagging together, and this looked perfectly "innocent".
Then Steph walked in. She was absolutely enraged with her husband in that compromising position. As things sorted out, Steph wanted 'space'.
In the meantime, that's where Kurt comes in.
Kurt acts all lovey and affectionate towards Stephanie noting how there shouldn't be a problem with them being friends.
Hunter disagreed mightily.
The two men bickered, and fought, and reconciled, then fought, and bickered, again, and again.
In the crossfire on SMACKDOWN one week, Steph went off the ring apron and into the steel steps! McMahon was knocked out, and was assisted back to the locker room by her husband Hunter.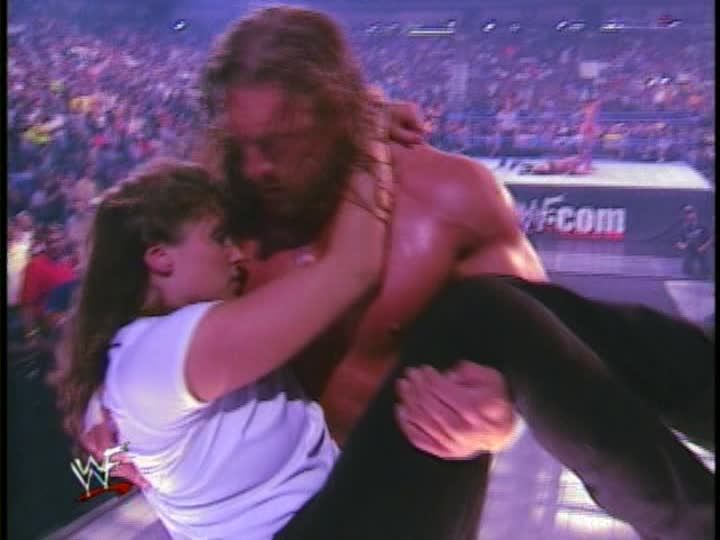 Hunter left Steph in the care of medics as he went back out to help Kurt in the tag match they were in.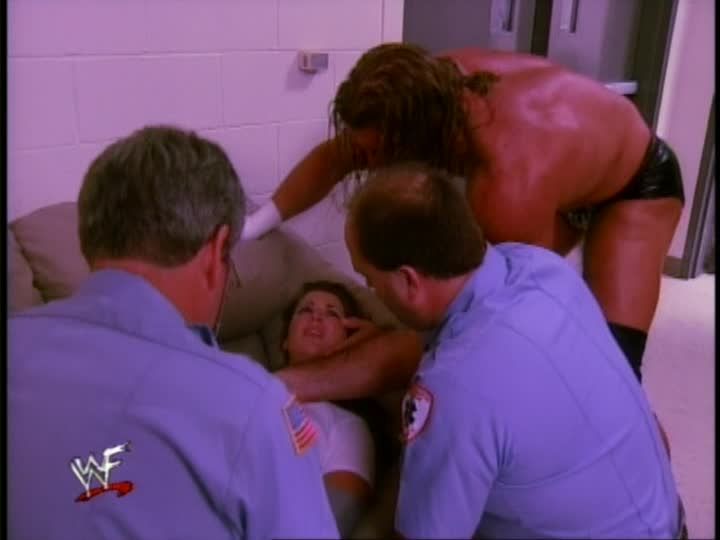 Only Kurt walked out on Hunter and went backstage.
A lying and prone McMahon-Helmsley, seemingly out of it. Angle said he cared for her, and then kissed her.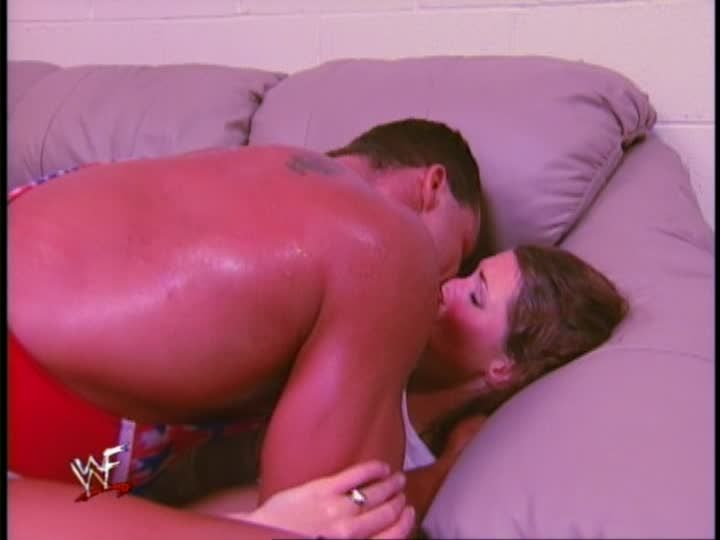 Yes, as in, one of those things you shouldn't do with another man's wife.
So then the main event hit. Angle hit the ring.
Then a pissed off Hunter.
Before the bell rung, they were off to the races already!
Both men spilled to the outside, were the Spanish announce table was torn apart by The Game.
Hunter hoisted Angle up. It's prime-time Pedigree position on the table!
Hunter tries to jump…
…BUT THE DAMN TABLE COLLAPSES!
Both men fall in a heap, but Angle by far looks the worse for wear.
Hunter tries to grab the sledge…
IF YOU SMELLLLL blares over the intercom and the match gets underway.
Rock wins, but not before Hunter punches Steph, and Angle hammers Hunter. Rock takes Angle over the top while Hunter later eats a People's Elbow for his troubles.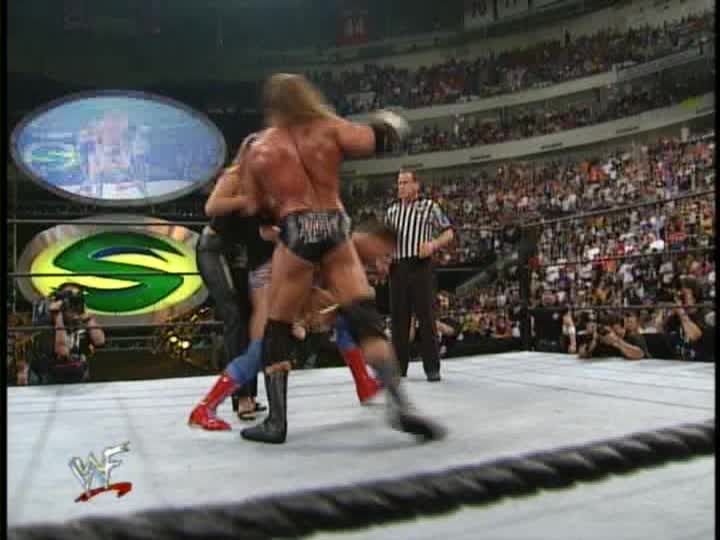 Now we get to the analytical part of this whole ordeal.
For the first time in quite some time, WWE had an inflated female audience seemingly drawn in with this angle. Quite frankly pro wrestling at times is like a testosterone-driven version of soap operas, however this angle definitely had its fair share of melodrama as well.
Triple H looked like was going to turn babyface from the angle as the positive receptions he drew grew more and more with each passing event. In the storyline, Stephanie should have ended up with Kurt.
Only it didn't happen.
Sure Kurt and Triple H had a good match at Unforgiven the following month, but the angle did not come to a satisfactory conclusion. Instead, it drew away viewers in droves. Not bad enough to where WCW had a flaming shot in hell to win the 'Wars, but bad enough to where the company had a figurative shiner heading into the new year.
From what was understood, two things happened that prevented the angle from being that red hot. 1: Hunter didn't want to turn. 2: Both Hunter and Stephanie, who were really starting to have a relationship in real life, didn't want to be split apart on TV permanently. Yet.
Which is what I was trying to prove with this Pedigree gone wrong. Although the idea caught fire early, it just wasn't meant to be.
9. Hogan Doesn't Know Best!- SummerSlam 2005
We didn't get 1995 Shawn Michaels in this match. Or even 2005 Shawn Michaels.
Instead, we got a man who was so pissed off with creative direction that he took it out on the man he was supposed to carry. A dream angle went totally awry, and all on ego.
Let's start at the beginning shall we?
The kick-start to this summer feud started on the most patriotic of all days: July 4th. On RAW, Shawn and Hulk teamed up to face Kurt Angle and Carlito.
Like quite a few times before, Hogan hit the big boot. This time it was on Carlito.
Like quite a few times before, Hogan got the pin and win.
Like quite a few times before, Hogan and Michaels celebrated in jubilation!
Only this time, Hogan never saw the next part coming.
He got a Sweet Chin Music courtesy of Michaels and HBK (W)records!
RAW ended with Shawn leaving Hulk in a pile middle of the ring. Shawn stared down at the fallen Hogan with a disgusted look like it had to be done, no matter how many times he convinced himself it wasn't a good idea.
The next week on RAW, someone who wanted to get an answer was ironically no other than one of Hogan's old nemesis' Roddy Piper!
Shawn stayed steadfast in silence during most of the interview. While Shawn did mention he superkicked Hogan so he can get him in the ring for a match, Piper thought it wasn't good enough. Michaels had it, and therefore superkicked the Hot Rod!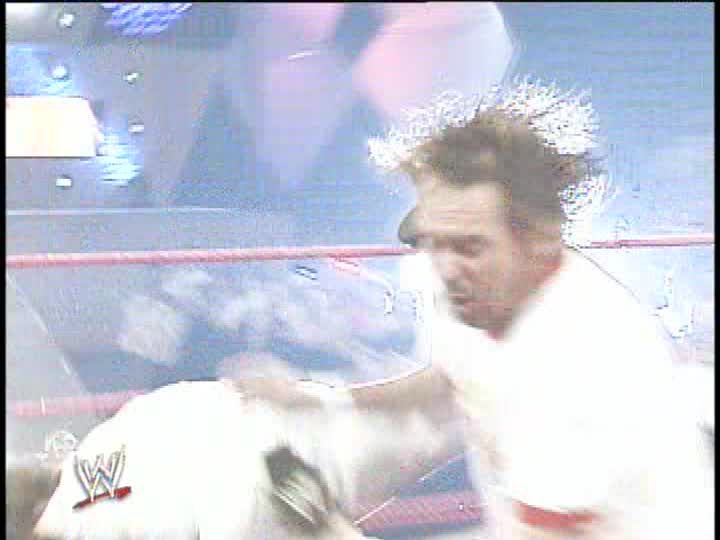 The following week, HBK ended his classic promo with a spin-up of his own phrase: "Watcha gonna do… when the Heartbreak Kid doesn't lay you for you!" A mixture of 1997 HBK with 4th-wall breaking Hogan antics.
Shawn's mocking of Hogan's politics didn't end there.
One episode of RAW featured a take-off of Larry King cunningly titled Larry Bling. Bling's guest is Hulk Hogan, but it's Shawn Michaels DRESSED (down to the bald head and moustache) as Hogan!
"I DON'T WRESTLE THE SMALL TOWNS BROTHER!"
Amongst many other quotable quotables.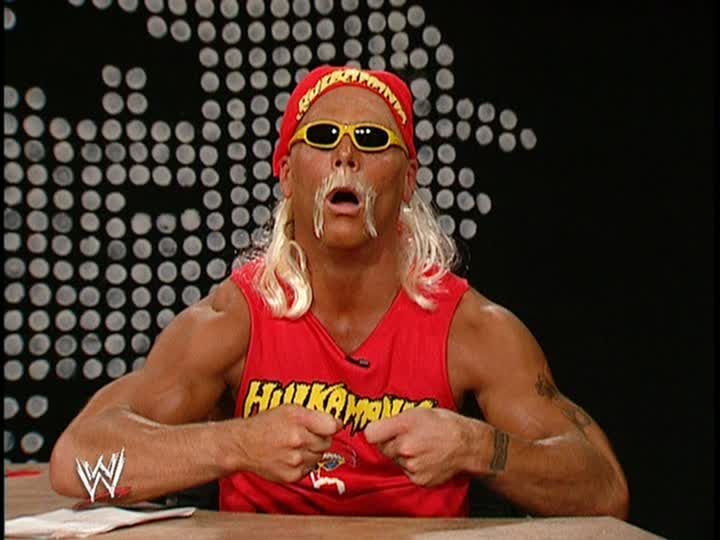 That segment, which featured more walls being broken than in a planned explosion, ended with HBH (Heartbreak Hogan) kicking Bling nearly out of his chair!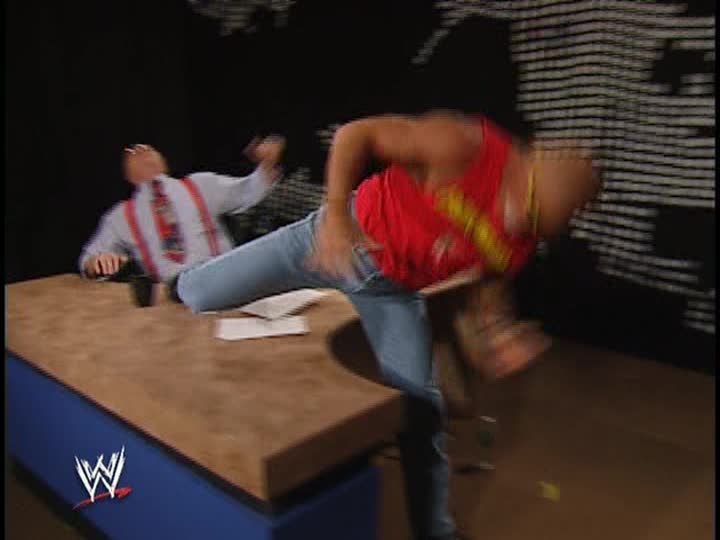 Then HBK fully undid the costume threatening Hogan about reality kicking him in the face, which was exactly what Shawn did to the camera!
Even that however couldn't prepare the faithful for the segment to come.
August 15th in Montreal was a promo in infamy.
Shawn came out in suit/tie to first sing a little ditty: "OH CANADAAAA… I HATE THIS PLACE! OH CANADAAAA…. I'M GONNA KICK HULK HOGAN RIGHT IN THE FACE!!!!"
Later, Shawn also admitted that he hated Canada as much as they hated him. More importantly, he was gonna call Bret Hart out!
And nothing.
HBK admitted it was a ruse.
So then Hogan's music came.
Rused again!
Shawn practically denounced Canada, and also warned Hogan he was thisclose to have his rear-end snuffed out like Bret Hart's. Hogan later got jumped by Michaels in the main event when the Real America took on the Olympic Hero Kurt Angle.
So now we're at SummerSlam from the nation's capital, Washington D.C.
Shawn comes out like normal.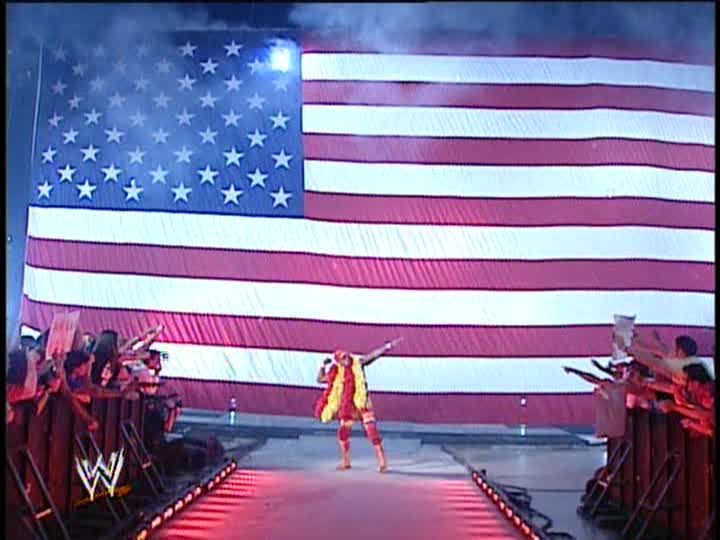 Hogan comes out with American flag donned in the background.
Yet right from the very beginning, something seems "off".
Whenever Hogan did ANYTHING to Michaels, Shawn would proceed to oversell it like crazy.
Did I say oversellous?
Sure Hogan would bleed and win the match, but it's all elementary.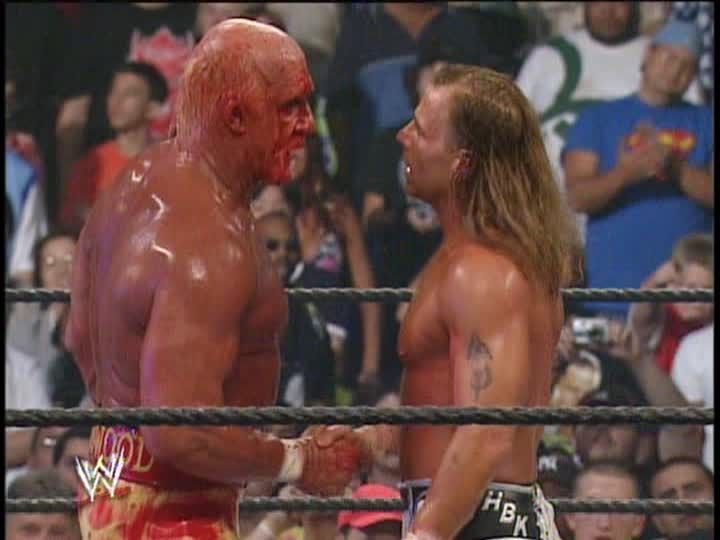 This feud (from what was reported) should have played out over several months. Shawn should have won at SummerSlam to kick it off. Hogan would then have a win at the next RAW PPV in Unforgiven. Then the next time the two would face off was going to be Survivor Series inside of a cage. Who the winner was going to be I don't know, but the blow-off would have been at SurSer.
Essentially, Hogan didn't want to lose to Michaels mainly because "he was too small", brother.
Also the same reason why he didn't want to lose the WWE Championship to Bret Hart at SummerSlam in 1993!
All the while, Michaels' overselling is a spectacle you must go out of your way to see. It's obvious that Shawn's passion told a different story than what was originally supposed to be told.
Speaking of something that goes well with mommy's milk…
8. Alberto Del Rio Runs on Diesel Power- SummerSlam 2011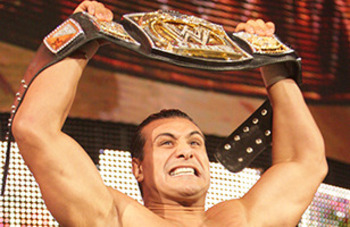 Money in the Bank has fast risen at a prestige event in the WWE. 2011 was a great example of why.
CM Punk, fresh off of one of the greatest promos cut in the history of professional wrestling, was challenging John Cena for the WWE Championship. In Punk's hometown of Chicago! With the added stipulation that if Cena lost, HE WAS FIRED BY VINCE ALMIGHTY GOD MCMAHON HIMSELF!
Sadly, the Chicago crowd never did get to see those ice cream bars…
But in any event, that crowd witnessed a five-star classic.
32 minutes and it never got boring, which is a testament to how well these two work together when given a proper platform!
While Punk got trapped in the STF, the corporate head honcho Vince McMahon came down with #1 'Yes-Man' John Lauranitis. The purpose of this was for Vince to call for the bell while Punk was in the maneuver, thus ensuring the belt would stay in the WWE.
Cena, to his credit, bailed out the ring and punched Johnny Ace RIGHT IN THE FUCKING FACE!
When Cena got back in, he received nothing more than a good ol' fashioned GTS from Punk! And guess what?
Punk went into the sunset. With the WWE Championship plus an expired contract.
The next night on RAW, Vince was about to say his magic words to Cena until Triple H showed up.
The newly-appointed COO (Chief Operating Officer) told Vince that the Board of Directors voted 'No Confidence' in Vince's decisions, and thus would terminate Vince from his daily duties in running the WWE. Triple H would take over in Vince's spot, ensuring "level heads" would prevail.
Or so we think.
A WWE Championship tournament would dominate that week's RAW and the one after it. Rey Mysterio, who was literally weeks away from surgery again, won the WWE title in a final match against The Miz.
Only the announcement was made that Mysterio would face Cena later in the evening for said belt.
Despite both men being the WWE for a decade by this point, this was one of the only times Mysterio/Cena met one-on-one. Cena predictably won the title again and celebrated.
To some unfamiliarly new music.
Some very awesome music performed by In Living Colour. No, not the television show that gave you such characters as Homie the Clown and Fire Marshall Bill.
No, the titantron was red and black with John F. Kennedy and Benito Mussolini as subjects literally interpreted from the song 'Cult of Personality'.
Who shows up? While CM Punk of course. WITH THE WWE TITLE HE HAD FROM MONEY IN THE BANK!
So now we have two champions, two belts. At WrestleMania X, the ladder match. The bad guy,,,, TAKES ALL THE GOLD!
The conundrum for SummerSlam was set. Cena/Punk II for the WWE Championship. Only this time, COO HHH was in the house as referee to ensure a proper ending. Plus we got to see the match happen with bright lights, bigger city!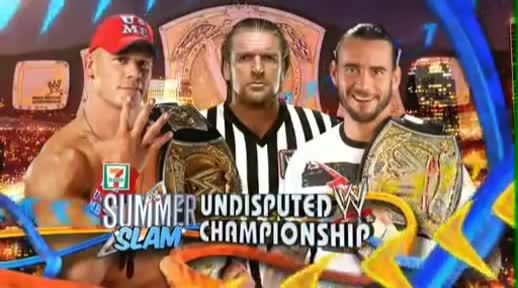 The match that followed was also really good. Maybe a slight step below MiTB, but still a great headliner event that easily was top five in best matches of the year from the WWE.
Cena was giving right-hands to Punk, but Punk ducked one of them into a roundhouse kick to the gut. A knee to the face on the ropes led to a GTS. Punk pinned Cena 1-2-3, although Cena's leg was on the ropes.
Punk celebrated the win but as he came down from the ropes, he got mauled.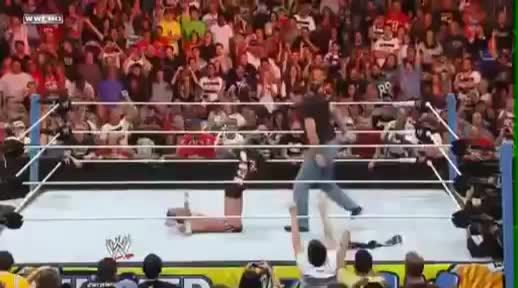 BY KEVIN NASH!
Nash beat the champ senseless, leading into a Jackknife powerbomb!
As Nash left, Alberto Del Rio showed up and cashed in Money in the Bank.
ADR picked the bones of Punk. Del Rio then gave an enziguri for the 1-2-3 and a title change!
Alberto celebrated his new found gold on the ramp as the show ended.
In the months ahead, Punk would battle Nash (before his quad pulled out again), Triple H (whom they fought each other at Night of Champions then teamed up at Vengeance), an unfounded conspiracy (with The Miz and R-Truth), and nearly being lost in the shuffle all due to this. Yet in the end, he beat ADR for the title at Survivor Series inside Madison Square Garden. Not bad for a guy who only months before wanted to leave WWE because of his frustration over the product!
7. As The Belt Turns- SummerSlam 1997
1997 WWE was a really, really crazy place.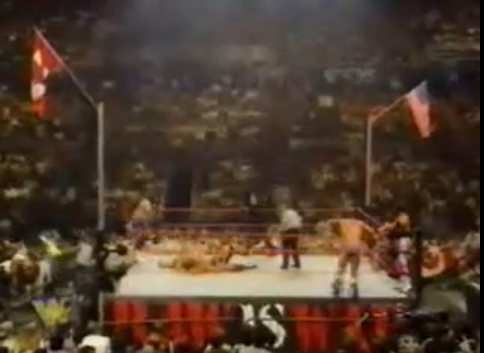 For starters, we had an all-out North America War. The United States of America vs. Canada. Depending on which week it was, that was how those particular people were viewed, either good or bad. It made for some awesome atmospheres, especially with the Calgary Stampede PPV the previous month.
Bret Hart and Shawn Michaels were having a legitimately public feud transcending into kayfabe storylines. Many of the comments made in interviews turned out to have many meanings, leading to some chicanery that left a very real divide amongst the two men.
The WWE Champion, Undertaker, was amidst in storyline scandal himself. It was discovered that he had a long-lost brother, one who was believed to have perished in a house fire when they were children. Undertaker's character had been covered in benevolence for years, but a dark shade of grey was exposed by former manager Paul Bearer.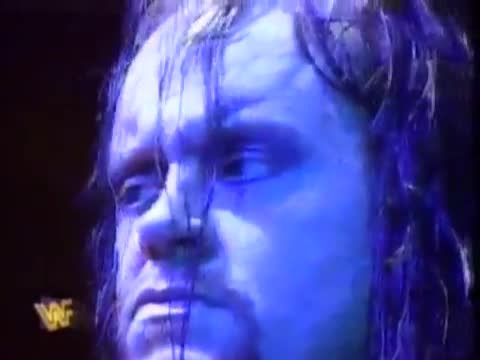 Emotional abuse was starting to take it's toll on the dead man. Add this in with two very combustible elements in 'The Hitman' and HBK, and SummerSlam literally meant its tagline "H(e)art and Soul".
Shawn had left the company on a fluke weeks before. A backstage fight with Bret left Shawn hot and bothered. It's also a testament that Vince thought so much of Shawn's athletic talents that he let Shawn back in so quickly. Shawn's duties for SummerSlam 1997 was that he was going to be the special referee for the WWE Championship match.
The question was whether Shawn was going to call it down the middle or not. If Shawn ref'ed the match with bias, his career in the US was over.
If Bret lost the match, straight-up that is, his US career was over. If Undertaker lost, well, he lost the title, but his career would be intact.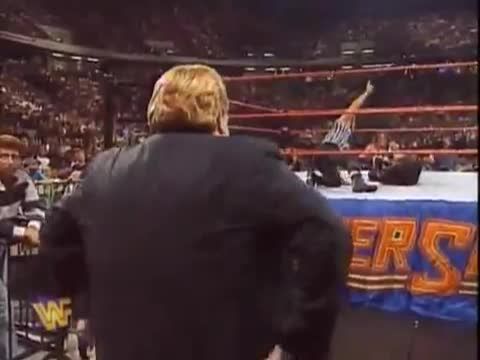 Many other names made their presences felt here, Multiple members of the Hart Foundation, along with Paul Bearer, made Undertaker suffer as much as they could.
But it wasn't them who took down The Undertaker.
Bret Hart introduced a chair into the match, but it was whisked away. Shawn, on instinct, had the chair in his hand when he got spat on by Bret.
Shawn swung…
…and connected…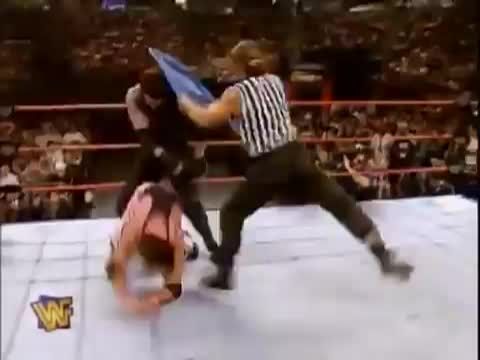 ON UNDERTAKER'S HEAD!
Bret made the cover, and Shawn did not like counting to 3 one bit. Bret's the champ, which also meant HBK's career was intact. Up until that point, Shawn was admittedly a very fair referee.
Off this match, Shawn would have feuds with Undertaker and Bret Hart, consecutively and concurrently.
Two of the most infamous matches in history happened after this. One being Hell in the Cell at Badd Blood, and the second being the title match in Montreal at the Survivor Series infamously dubbed, "The Montreal Screwjob".
In reality, this was the beginning of the end for Bret's active WWE career. Shortly after winning the title, Vince notified Bret that his contract couldn't be honored due to financial constraints. Bret was free to look elsewhere for work (i.e: WCW). 'Screwjob' was a result of Bret not willing to lose the title for Shawn…
…whom ironically was starting to see the twilight of that part his career. Shawn was starting to have physical problems that would later escalate to the infamous casket bump at the Royal Rumble. After losing the title to Steve Austin at WrestleMania XIV, Shawn would "retire" from active competition for a while. Sure he would be on TV every now and then as the commissioner, but it was obvious his best days were far behind them… or were they?
6. Feels Like the First Time (Because It Was)- SummerSlam 1991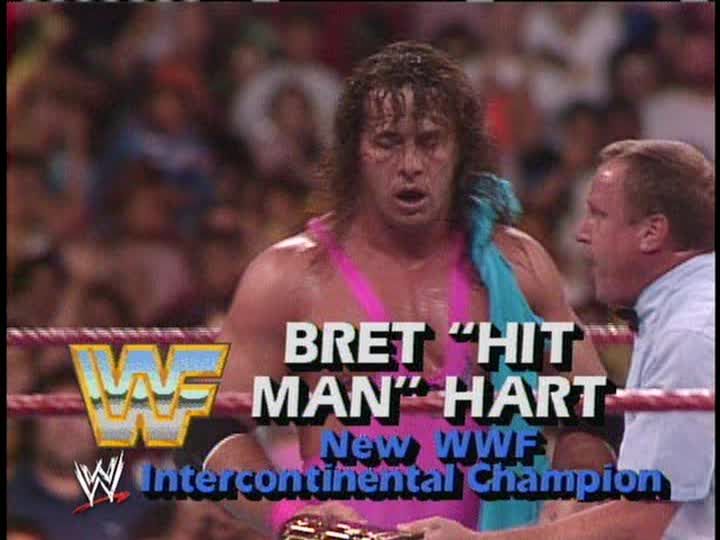 Sure, anyone can win the Intercontinental Championship. Hell, I can probably win it Monday night on RAW.
However, in the year 2013, the IC belt has the prestige of a Ford Pinto before exploding.
Back in the early 1990's, the IC belt was not only a very prestigious championship, but it was the stepping stone to the WWE Championship. In addition, the belt also meant you are a workhorse capable of working with anyone/everyone.
Bret Hart by this point was only cutting his teeth into a singles run. While he was primarily a singles competitor in organizations before WWE, it had been quite a few years since Hart had been fully on his "own" so to speak.
Bret, with Jim 'Anvil' Neidhart & Jimmy 'Mouth of the South' Hart, became The Hart Foundation in the latter half of the 1980s. This team, whether heel or face, was 'the team'. In a booming tag ranks, these two were the balanced ticket flag bearers.
Like most great things though, they must come to an end.
After their loss to the Nasty Boys at WrestleMania VII, Neidhart and Hart amicably parted. In today's WWE, a tag team after splitting would become a insta-feud, because one partner would inevitably turn on the other. In this case, fortunately, Bret & Jim went on to do their own biddings.
Unbeknownst to Bret, he was about to start riding the roller coaster to the top!
For SummerSlam 1991, Curt Henning was at a career crossroads. His back was in really bad shape, and while he was Intercontinental Champion, he was just about to hang it up.
Only if Curt was going to lose the title, he would need to lose it to someone he can trust.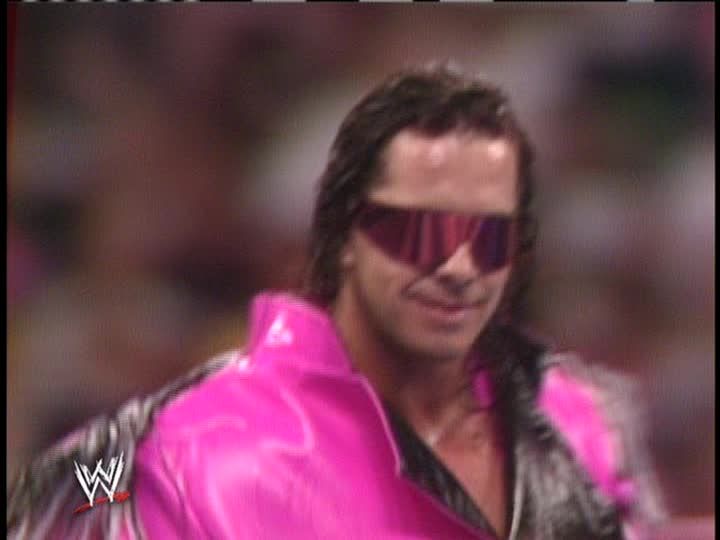 Bret luckily for him was that guy.
Two second-generation wrestlers, both recognized of superseding their fathers, were about to clash in probably one of the finest WRESTLING matches in SummerSlam history. Stu and Larry must have been proud papas watching their sons perform their respective crafts at such a high level.
While I won't go into too much detail about the match here, I can tell you this:
It's good. It's damn good!
For 1991, it was probably the best wrestling (and I mean as in the craft of wrestling) match in quite some time. Every now and then I regret not putting this match as my 1991 pick for best matches of the 1990's (you can see what I did pick right here),
The most significant nugget of this part of the countdown is that it is literally the birth of Bret Hart's legendary singles run.
Curt tapping out to the Sharpshooter the way he did definitely helped. Not only did Curt's selling of the move look like death itself, but it allowed Bret to use that finisher as a unique weapon in a game where mostly high-impact slams were the norm. Must be noted that Curt's back, as noted before, was in a really bad way, so that early tap may have been partial shoot too.
1991's SummerSlam was one of the best in history. Not only did it make new stars, but the main event of that show was quite something else as well….
_______________________________________________
Wow, we're getting down to the top 5 here people! Any spoiler given on #1 would totally give it away, but I will supply some tasty teasers for the moments ahead. There was a match made in(side) hell, and also in heaven. A massive turning point in the history of the WWE (cheap plug for that site), and a legend comes back to prove he still has more than plenty left in the tank! We're on the Highway to Hell, all the way down to the bottomless depths of #1!
_________________________________________________